Members of the think tank
Jaana Hallamaa is Professor of Social Ethics at the University of Helsinki, Faculty of Theology. She is vice PI in the research project Towards ethical use of AI (ETAIROS), funded by Strategic Research Council (Academy of Finland). Her research interests have extended to both theoretical and practical, or applied, ethics, never straying far from issues of justice and equality. During the first decade of the millennium, Hallamaa concentrated on bioethics and research ethics. Her research topics also included the role of Christianity, and especially Lutheranism, in European and Scandinavian social ethics; values and faith in ethics and morality; and the realities and possibilities of pluralism, integration, and consensus in social affairs. In recent years, Hallamaa has explored the theories of action and social action as elements of social ethics as well as ethics of AI. She is currently working on a project on Ethics of Failure: errors, mistakes and wrongdoing in social action.
Elina Knihtilä is a Professor of Acting at the Helsinki University of the Arts. She studied at the Theatre Academy, a founding institution of the present-day University of the Arts and graduated in 1996 as a Master of Theatre Art and an actor. Presently she works as a board member at the WIFT Finland ry, an association working for gender equality in the film and television industry. In the past Knihtilä has worked as the director of the board for the independent theatre group  Q-teatteri ry, as well as in the planning committee of the Baltic Circle -theatre festival.
Knihtilä has been active in the fields of television and cinema as an actor, for which she has been awarded two Jussi-awards. She's also written for numerous comedy series and given presentation trainings for companies and other institutions. To the think tank Knihtilä brings her insight into how to share skills and perspective through the understanding of drama.
Pauli Rautiainen is a human rights scholar who has analyzed state power in his studies.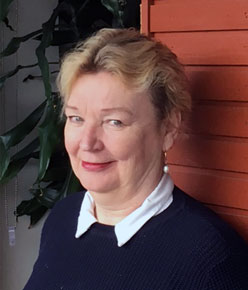 Anja Salmi  is the Chairman of the Think Tank and Cheaf Editor of National Dynamics. She holds a Post-Graduate Exam in Board Dynamics (Tavistock Institute). She is the CEO of the Psychiatric Outpatient Clinic Egofunktio Ltd as well as a board member of the AGSLO Foundation and the FINOD Association. Anja has long-standing experience working on the topic of large group dynamics based on Kleinian psychoanalytic thinking.
Ilkka Väätti is a Doctor of Arts (D.A) and a visual artist.  He divides his time between painting, graphic design, building architectons,  and research. He has years of experience as an art teacher in numerous educational establishments. Väätti was the last artistic director of Lahti's Institute of Fine Arts between 2015 – 2016, before the college merged into the present-day LAB University of Applied Sciences. His contributions to the operations of the think tank are on the fields of visual communication and permanency.
Salla Nazarenko is a journalist and a non-fiction writer. She has been a board member of Transparency International Finland for several years and has acted as its chairperson in 2019 and 2020. She has particular interests in the characteristics of Finnish corruption and their influence on the function of our society. She will work for the Union of Journalists in Finland as a specialist in international affairs starting from September 2021.
Olli Sinivaara, M.P.S., is a writer, translator and specialist in the mimetic theory developed by French academic René Girard. Mimetic theory is a multidisciplinary ensemble involving psychosocial relations and the role of violence in societies and religions. Sinivaara has translated into Finnish Girard's anthropological magnum opus Violence and the Sacred. To the think tank Sinivaara brings analysis of group dynamics and collective action stemming from Girard's thinking.
Satu Engblom has worked in the fields of care and culture. She is interested in the relations between concrete places, such as buildings, remote presence and the formation of practices and thinking in communities. Satu works for the think tank as a coordinator.